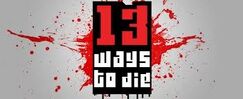 13 Ways to Die
was a series, made by
Daniel Hardcastle
, produced for Machinima's channel 'Happy Hour'. The series episodes consisted of an edited compilation of thirteen entertaining ways characters in games could die. Most of the time, the game that was being played in the series had been played on his gaming channel prior to the release of a 13 Ways to Die episode.
13 Ways to Die was first released on the 13th of April, 2012. The first video made by Dan featured in this article is '42 ways to die in Saints Row the Third', which was released on the 11 of December, 2011.
Episode List
Edit
Ad blocker interference detected!
Wikia is a free-to-use site that makes money from advertising. We have a modified experience for viewers using ad blockers

Wikia is not accessible if you've made further modifications. Remove the custom ad blocker rule(s) and the page will load as expected.